We were searching and testing cars for our customers at AutoGenius and saw a guy with his wife enquiring about cars at dealers place. He was keenly asking the dealer about the Honda City's, Volkswagen Polo's and a few other cars. Until this point in time, everything was just fine and we continued with our search for good cars at the dealer. A few minutes later we saw him turn towards a Skoda Superb and enquiring about it. The first thing that struck my mind was… OMG!!! I got to save this guy.
I didn't like even a single car at that dealer's place and was on the way out when I and Shubham Mehta spoke with this guy for the very first time. We just genuinely wanted to save a random guy from buying a Superb. To all those who know about the number of the problems that arrive in the car, surely know why I was so keen on saving someone.
Our conversation was a shorter one, wherein I told him about the services of our company and how we can help him get the best car for him at the best price. We were so engrossed in explaining the details of our services that it is the second time when forgot to take a customer's no. to follow up with him for later. However since we did give him our card and with the AutoGenius charm working perfectly, we got a call in the evening around 8 pm to schedule to a meeting to speak further on purchasing the best car for his requirements.
Me, Shubham, Govinda & his wife Nisha met and spoke for hours about their requirements from the car. Every person we meet has a different requirement and for every such person, we select a car that is just the best for their personality.
At AutoGenius our primary job is to test personalities of cars as well as our customers and to match them just so perfectly that both remain happy for a lifetime.
You know one deserves a Mercedes just by his thinking and the actions one takes. So we also discussed the Mercedes E Class 220d we got for Mr. Sanjay Shah in our meeting.
Govinda's requirements at the time we met were:
Price: 4 to 5 lakhs ( Flexible ± 1 lakh)
Tenure: 3 Years
Kms done: 50k ±10k Kms
Automatic Preferred
Petrol or Diesel Anything of our choice.
Safety features at priority ( Airbags + ABS + EBD)
More Legroom
Low NVH levels
Daily 50 km Drive
Monthly 500 Kms trips
Cruise control
1st or 2nd owner will do.
Sedan
Leather Seats
Steering Mounted Controls
Tilt & Telescopic Steering
Features like Fog Lamps, Defoggers, Alloys
Very Good Music System
Armrest
More than 400 liters of luggage Space
Remote locking
Pune Passing.
Whenever I meet my customers I ask them if I was supposed to make a car for you what would you want in the car?
The long list that we get is a result of that one question. It is challenging finding the best car in the best price along with 238 checkpoints + managing each and every requirement of the customers, but once we do, a 5 Star Google and Facebook review is guaranteed, so we work to our best possible in achieving everything our customer wants from a car so that we can make them super happy customers of AutoGenius.
Cars we shortlisted and began to test were:
* Honda City V AT ( 2012 to 2013)
* Honda Civic V AT ( 2010 to 2012)
 The Honda Civic Automatic:
Finding cleaner Honda Civics with genuine odometer readings and a very well maintained car is a task in itself. Searching an Automatic Civic takes the same task to next level. We tried our absolute best and found as much as Civics we could, however, the leakages of Oil from Hydraulic Power steering of Honda Civics can cause nightmares to a pre-owned buyer. So of the many selected we shortlisted just one Civic in its best condition but Govinda was more inclined towards the city than the civic so we dropped all the Civics and started searching for Honda City's.
To talk about the strangest thing a 2012 Honda City, Honda Civic and Honda Accord sell at almost the same cost with the very negligible price difference between them. Obviously, the maintenance would vary but for Govinda, Maintaining the car was not an issue so we were open to options.
The Honda City Automatic:
The 2012 Honda City V AT gets Paddle gear shifters, Cruise control, a new shaped tail lamp, Blue illumination interior and speedometer console. It holds a reputation for being the most no-nonsense car due to its niggles free attitude.
One primary reason behind it selling at a higher resale value as compared to its competitors.
Since Govinda had been out of Pune for almost half a month we had extra time to search the best of the best Honda City's. We tested and shortlisted 4 Honda city's however till the time Govinda could be back in the town those got sold. Coz good cars at the best price don't stay for long and get sold in a flash.
So we decided to wait for a few days and re-start our search just a few days prior to Govinda coming to Pune.
Here's another classic example we shortlisted. A Honda City V AT,  2011 make which meant the features of cruise control and blue light illumination were missing, however, the car was maintained really well even after 68k on the Odo, leather seats, all 238 points perfect, accident-free and it deserved to be shortlisted.  Spoke with the dealer for the price and with negotiations done it was a great deal. So we had 90 % finalized the car and the remaining 10 % was for Govinda to see the car and say yes.
It was very clear that the car I choose will be the car Govinda would purchase without giving any thoughts and with the added responsibility I had to test every car at its best. The evening I was speaking with Govinda he told me about his interest in a Mercedes C class petrol at a dealers place. Now this was a huge leap forward from the 5 lakh budget but anything for a great car he said.
Along with being the Data Scientist at Deutsche bank Govinda also is a master in teaching complex computer Algorithms and languages to his students. His Ideology of buying the Mercedes was just so positively great that made us wonder if we too start thinking along the same lines. We will own a Mercedes soon too.
The Fact is one cannot buy a Mercedes if he thinks constantly about its maintenance and Service charges. You actually need a mindset like Govinda to own one mentally first.
His ideology was if he gets a Mercedes, he will get more recognition for the work and his teachings, which in turn will him in getting more students for his classes. Further increasing the amount of earning's per year and making him more successful. A good thought and a great car put to use can actually create wonders.
So I agreed to test the Mercedes C class petrol after he checking the Honda city I had shortlisted.
The day arrived and I was pre-occupied with my customer meet and car bookings, tried to finish of early as possible as Govinda had to also go to his classes for teaching his students as it being a Saturday. So we had very limited time to test both cars and finalize one of them. Mercedes has also been his wife's favourite brand in cars.
 I was running late on my schedule so asked Shubham to meet Govinda and show him the Honda City & meanwhile I would reach and take it further. The time I arrived he had seen the City and loved it but he wanted to see the Mercedes and then make up a decision. So we traveled all the way to Shivaji Nagar as fast as we could to make it within time.
Note: The car was Govinda's choice and I just had to test this one…
The car was a Black Mercedes C Class Avantgarde V6 petrol. A gas guzzler but a good performance car.  It was a 2nd owner car done with 82k kilometers. Which meant Govinda would had been the 3rd owner. Leaving that side the car didn't impress the AutoGenius mind and so I suggested: "If you want a Mercedes I will get you the best one". and we moved on from the car.
 To which Govinda replied "I got to leave for classes now, it is exactly 2.30 pm, and I will meet you again in 3 Hours. If it's possible for you to search, test and finalize a Mercedes in its best condition by today itself, we will book it today itself and I will treat you at CONRAD Pune".
Here's when things started getting interesting.
I had just 3 hours, so we quickly started searching all the online portals for a Mercedes, spoke with all the dealers that are in tie-up with us, hoping to find a car that meets Govinda's Requirements + my 300 point luxury car checklist.
In the first hour, we shortlisted 9 luxury cars, 3 of them were Mercedes C Class and 5 of them were BMW 3 series and 1 was the Audi A4.
Options available were :
Mercedes C220 Cdi
Mercedes C250 Cdi
BMW 320d
Audi A4 Petrol.
Audi is front Wheel drive that alone kills the fun of having an enthusiastic car. The 50 km daily drive and 500 Kms monthly trips meant diesel would be a more practical choice. So we dropped all the petrol cars and just focussed on the best diesel cars available.
The Mercedes C220 Cdi is a good practical car but feels a bit underpowered due to a single turbo and power output of 170 bhp and 400 Nm torque.
The BMW 320d, on the other hand, produces 184 bhp and 380 Nm of torque and is more fun to drive than the C220 due to its lightweight.
However, the C250 Cdi takes things to a different level altogether. It produces a power output of 204 bhp and massive 500 Nm torque.
That's a 100 Nm more than the BMW 320'd pulling power. You put the throttle on the floor the C250 Cdi makes you aware that you are in a car that has 500 Nm torque. It surges so fast from 0 to 100 kmph with minimum time delay in gear shifts that you are stuck in the comforting seats admiring the madness of its acceleration and smiling with butterflies in your stomach.
Now the C250 Cdi is a rare car, people in India are much more price and mileage sensitive. Majority purchase the C 220 CDi to save money in price difference and get a better mileage of the C 220 Cdi. One more reason being the Star is available at a lesser price.
There are very few enthusiasts that would want massive performance from a diesel along with good fuel efficiency. For those wanting to tame the beast, there exists the C250 Cdi. The car comes with 2 variants the Avantgarde (sportier looking) and the Elegance (Classic looking).
Now, what are the odds that a person chooses the business looking Classic variant Elegance C250 Cdi? Very Few Right … Coz someone who wants more power of the C250 Cdi will choose the sportier looking Avantgarde edition. The elegance edition portrays a unique Sporty from the engine and elegantly classic looking design characteristic on the outside.
That's a very rare car. To tell you further, we had met the owner of Ovi cars Srikant a few days back wherein we had discussed our requirement of a Mercedes for another customer. I called him to check if the car could be made available immediately. We got a positive reply and a diesel car with genuinely only 32000 Kms and complete service history was brought to us. We checked the service history of the car and it all came clean.
So all in all A car, A Mercedes Star badge with practicality of the diesel fuel, 204 bhp and 500 Nm torque, sportier inside, elegant outside, top of the line C250 Cdi with just 32000 Kms done, Pune Passing and a whopping 3 lakh cash discount due to our tie-ups was awaiting a Yes… Is there anything else you would ask for…?
Well, there was every reason to be happy about after testing this car. That evening I knew I have earned my treat at CONRAD. Hard work always pays off and customer deeds work miracles.
Finding such a car in less than 3 hours is nothing less than impossible but not giving up on the task, with just the right efforts and the perfect team at AutoGenius, we can now say, " everything is possible".
We did test the BMW and the other cars but none were even a comparison closer to the charm of C250 Cdi in Black.
I tested 300 checkpoints of the car, made sure everything is perfect the AutoGenius way. We went for a couple of drives and Yes we booked the car the same time and I was the one to drive it first after being pre worshipped at the dealer. As a matter of fact, the memory seat function still have my presets saved on position no. 3.
On the way home we took a longer route to reach Govinda's home, (from PCMC to Bhosari and then to Hadapsar) to avoid traffic. We halted once to check tire pressures and the response we got from the tire filling guy was amazing. He felt it's a brand new car just taken delivery from the showroom and started to inquire more about it.
Later we planned to visit the shell Petrol pump at Mundwa Road.
And what happened here was unbelievable.
There was a long queue of cars and bikes at the petrol pump, we honked and a new line was made for us. The owner of shell Petrol Pump arrived and congratulated us on the purchase of a new car. Yes, even he thought it's a new car. We were gifted with a Microfibre cloth and lots of food items and were requested if we can pose for a photo while filing the first petrol from them.
All of this just made us feel so good about buying a Mercedes that we constantly had a feeling that investing in one is "Full Paisa Vassool"
We reached Govinda's place laughing and admiring all that had happened and awaited Nisha (Govinda's Better Half) to worship the car and cut the AutoGenius Cake.
Shots of the time are as follows.
Honestly, I have tested and driven multiple luxury cars till date but the charm of taking a Mercedes, any place no matter where and honking is unbeatable.
When you own one no matter if you aren't a Star, the car makes you one.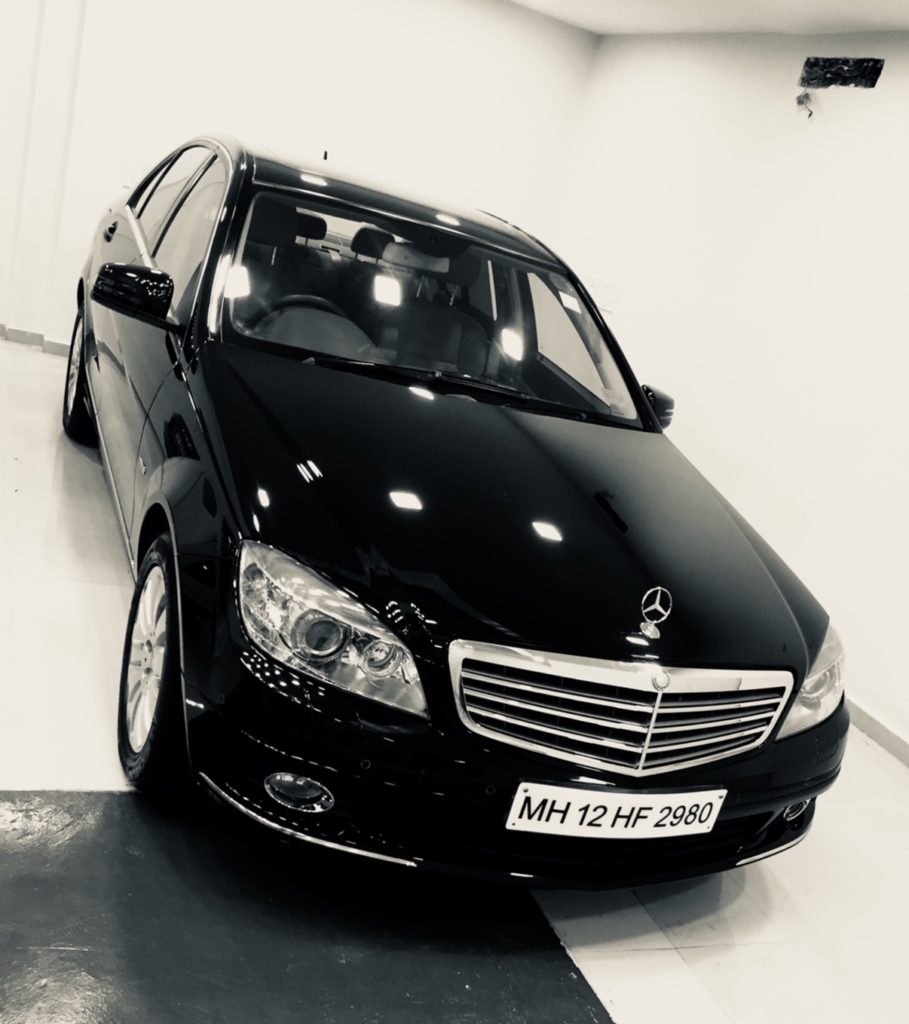 It remains The Best or nothing!!!