I test and drive cars & bikes every day, it isn't easy making a guy like me feel jealous. Well this just happened. I got our new customer at AutoGenius Miss. Snehal Shelke a Ford Fiesta 1.6 Duratec. That's a car that meets my 238 points checklist and comes with a 101 bhp @6500 rpm engine. If this ain't enough, here's the story:
Snehal joined in AutoGenius for our service of Used (Pre-owned) car selection & Testing wherein the team at Autogenius finds a car suited to your requirement with our 238 point checklist. All that the customer needs to do is focus on his work or enjoy doing whatever they like. The team goes out every day searching for the most perfect vehicle and doesn't settle until we have found one.
Since Snehal is an IT professional finding the right car with everything in the most possibly perfect condition would either mean taking time out of her busy office schedule or just settling with any random car. Smartly Snehal choose AutoGenius for the job.
Her Requirements:
Price 2 to 3 lakhs.
Petrol car.
Low NVH.
Easy and Fun to drive.
Mostly a weekend drive car.
Power steering that weighs lighter.
Good Music System.
Low Maintenance.
Good Tyre Condition.
Comprehensive insurance that already valid till the next year.
Mileage of 10 to 15kmpl.
At least front 2 power windows.
A car with good image value.
Sedan (if possible).
ABS (if possible).
And Not a Maruti Alto.
With the advance amount taken the team of Engineers at Autogenius analysed her requirements and shortlisted a few cars that would be appropriate for Snehal namely:
Ford Figo
Ford Fiesta
Hyundai I10
Hyundai Eon
Maruti A-star
Maruti Swift
Fiat Punto
Fiat Linea
With this our search began, for all those who don't know about this service of AutoGenius. We first check the car's condition with our 238 point checklist. Then the service history followed by what has happened in every service of the vehicle. Then checking for the odometer tampering if in any case it is reversed. Insurance claims and RTO checks for any cases or accidental history and with our huge dealer network we also get car in the best possible price delivered to you at your door step on your approval. So a complete hassle free car buying experience.
Since Snehal was too excited about getting a car she also wanted it to be delivered within a week.  We accepted the challenge and started immediately.
Here's a list of cars we tested until we found the car we thought is a must buy.
4 Hyundai i10
5 Hyundai Eon
2 Fiat Linea
3 Fiat Punto
2 Ford Figo
2 Maruti Suzuki Swift
1 Maruti Suzuki SX4
1 Honda Brio
4 Ford Fiesta
That's 24 cars we tested to perfection and then there was one that we liked of all. The Diamond White Ford Fiesta 1.6.
Hyundai I10:
 The 1st car we came across was a Red Hyundai i10 2010 was in a neat condition but was driven 78k kms and we wanted a car that was a bit lesser driven, though it came with a complete service history and passed a lot of our checks we found the engine mountings on its way out and wanted a car that Snehal didn't had to service immediately after purchasing.
The next car was a Silver 2010 i10 done 41k kms and was neat, smooth to drive and had faulty rear trunk shocks, a minor dent at the bonnet and a few repaints but overall the condition of the car engine wise was very good and was a fair buy considering the price. So we shortlisted this car for the next round.
The other 2 i10's looked great on the websites but when we found the service history of the two we found their odometers to be tampered and since the kilometers were reversed by a 30k+ mark we knocked them out immediately.
Hyundai Eon:
For the Eons which were low on Kms the asking price was sufficiently high and the ones that were run approx. 60k Kms had their engine mountings worn out completely, so investing in a small yet practical car wasn't so practical considering the other options available.

Fiat Linea:
The Fiat Linea's carry a good image value, they look huge, lengthy and since they sports a very good high speed Maneuverability we added the Linea's to our list. However they aren't very easy to drive esp. for city commutes and taking reverse. Though there wasn't much work on the cars the linea's fared very poorly in the interiors. The dashboard lost its colours the AC vents and its buttons very scratched. Which made the car looked older than it actually was. Also Fiat Service centres are time consuming whilst ordering any parts for the car esp. after an accident. Which meant more time at the service station than with the owner. So we had no other option than knocking it down.
Fiat Punto:
Finding a clean Punto is difficult esp. with low mileage on the odometer. Though we managed to find a better Punto of the 3 we tested, it was black in colour and since it was a 2009 modelled the asking price didn't match our evaluation. However the Punto was always serviced at the service centre and fared well to our tests too. So we shortlisted the black one for the finale.
Ford Figo:
Back in 2010's there was a very famous like for the car. "Ladkiyo Mein Ego Aur Ford Mein Figo Hume Bilkul Pasand Nahi". I sure who so ever made this line up was a guy, Wherein we wanted to get this car for a girl. So we gave it a shot. We found 2 Figo's with lesser mileage on them. There were just 27k and 31k Kms driven which made us happy. Tested them with our 238 point check and they were actually good. These cars were surprisingly ease to drive. Which meant Snehal could drive the car in ease. Smooth high engines that were silent on lower revs and developed adequate power on the higher rpms. One of the Figo was transferred within the family as per the records however since the RC book stated 2 owners, Snehal would had been the third one. Which meant lesser resale value when Snehal would want to sell it off. Also it had a minor dent at the A pillar which was to are concern.
The second car with the 31k Kms on the odo was simply great. No accidental history, comprehensive insurance that was valid for 4 more months and overall it was in a very good condition. The car had its brake pads worn out and the tyres would had lasted approx. 5k Kms more and would had needed a change. All this was still considerable but the owner of this car had a lot attitude problems which made us not grab the deal immediately. Though we shortlisted this car. Considering the engine and all the interior along with the exterior was worth it.
Maruti Suzuki Swift: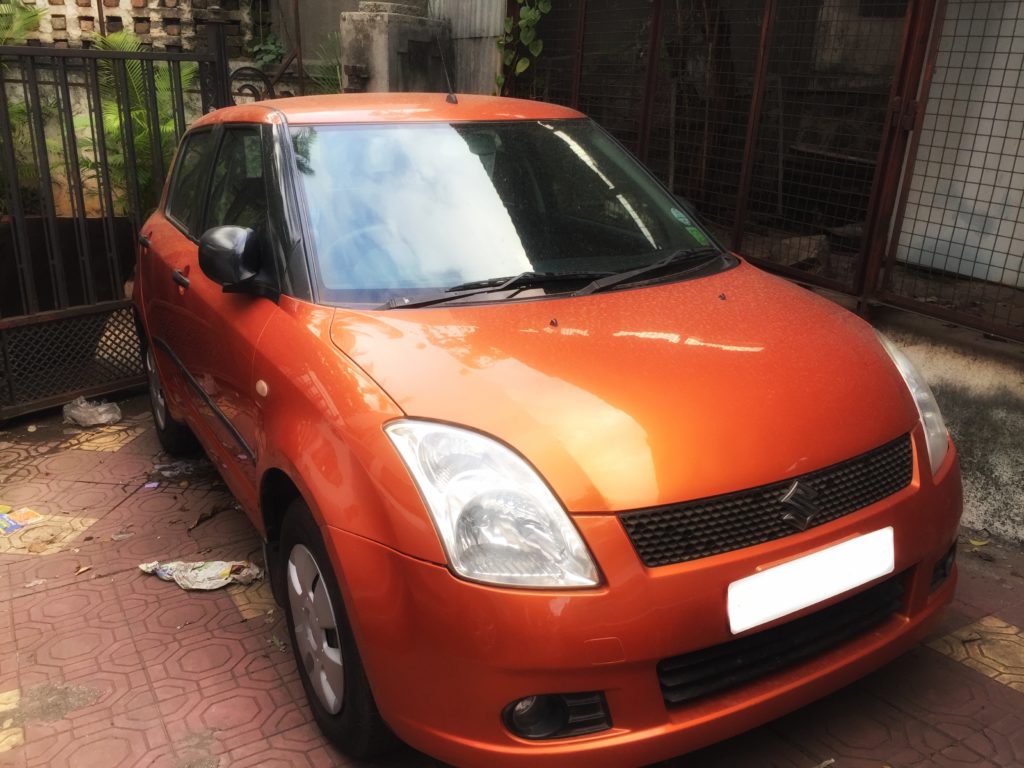 Swifts have been in the country since 2006 and have always been cherished in the Indian market and hence the previous owners demanded for a higher resale value. One of the swifts we tested was a 2006 done 58k Kms. Considering the price and its condition after our 238 point check the price being less than 2 lakhs very much suited the deal. But we were not too happy getting a car that was 11 years older. We always follow a saying at AutoGenius "We buy cars for our customers that we can buy for ourselves". The swift didn't make me feel I would have purchased it for myself. So we dropped it.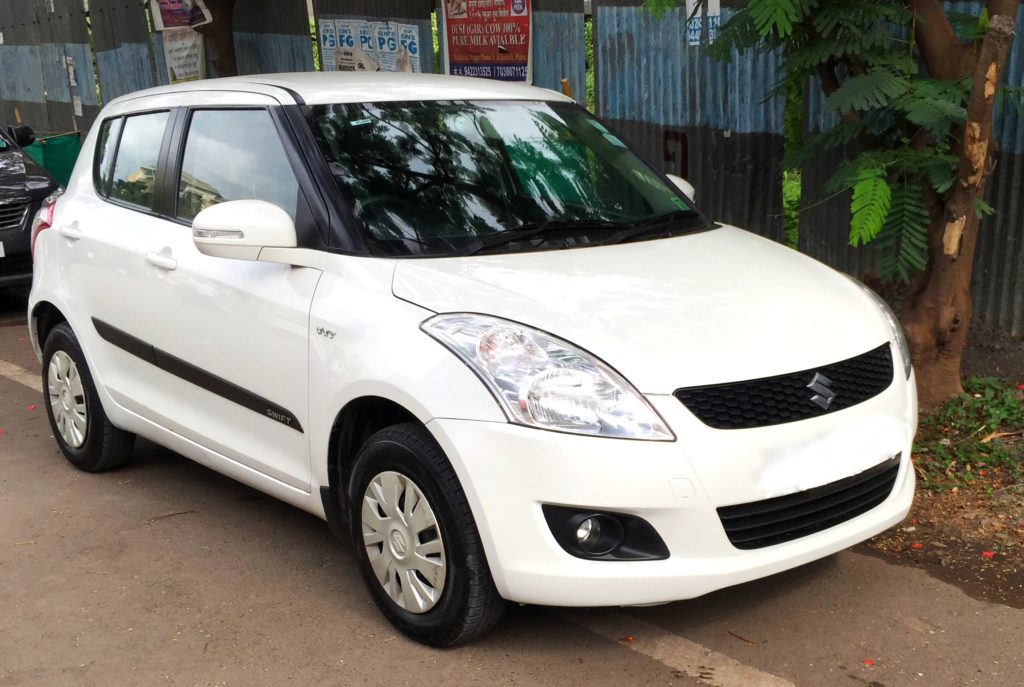 Another white swift was 38k on the odo. Finding such cars is really difficult esp. when you are tired searching and testing multiple cars every day and yet haven't found the best one. A huge thanks and appreciation to our engineers who didn't stop their search midway. Now we finally had a swift to the AutoGenius liking. But this car was with a dealer and he was asking for a price that exceeded Snehal's budget even after our bargain. So we thought of asking Snehal about the price increment but she was firm on her budget for buying a pre-owned car. Since we are on the customer's side always. We left the swift and moved onto the next car.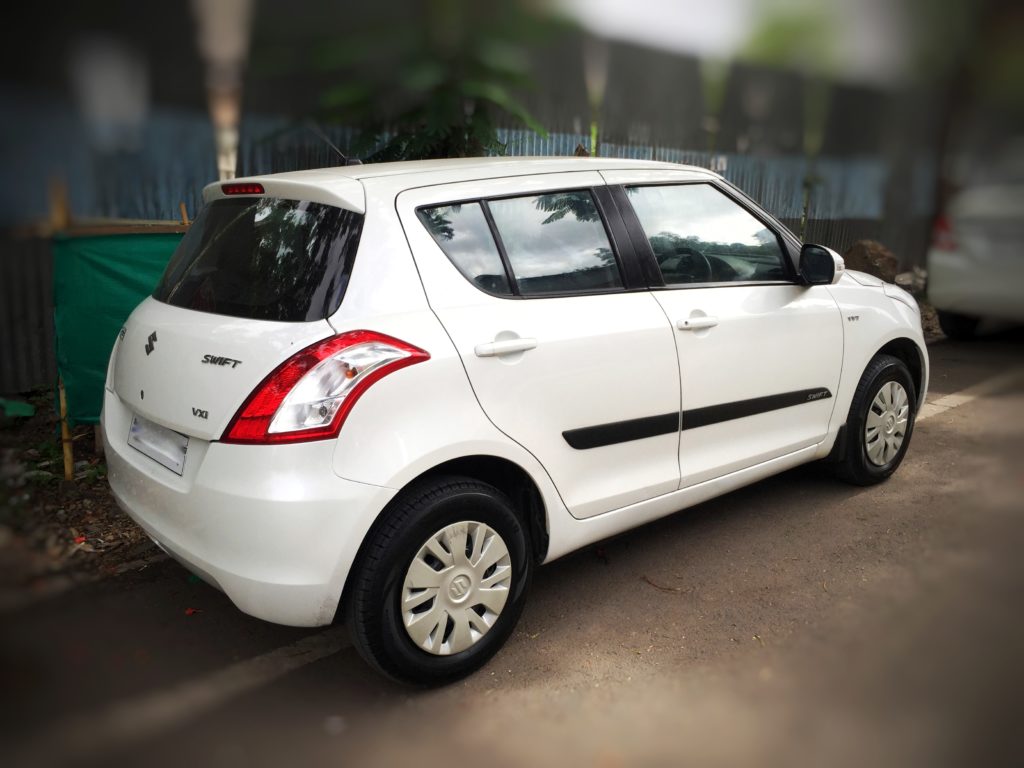 Maruti Suzuki SX4:
We have given an SX4 ZXi to our previous customer 'Harshal Bhawsar" and he remains happy with the car. However this Sx4 we tested couldn't even match meeting half way of our 238 point check and had to be rejected on the spot. Harshal was one lucky guy to get the SX4 in a completely scratch less condition. The history with the SX4 didn't seem to be repeated ever since.
Honda Brio: 
They say, when you don't understand what to do, be in the customer's shoe and think. Well the thought of being in heels was scary. So I dropped the idea and thought of a new ideology. If I was supposed to buy a car for Snehal which one would had been and there I had the answer "A Honda Brio in Red". Our search was a short one, there are a couple of good conditioned Brio's in the market for a 3+ lakh range. Luckily we found a Brio in Red, it was good in condition when checked, however the car was a second owner and the owner was still asking for a higher price.  We tried our best for find more brio's within our price range but that seemed not possible at least this time.
Ford Fiesta:
Ask a car enthusiast what 100 bhp/tonne in power to weight means. Majority will have an immediate liking and an irresistible want for the car. Well the 2009 to 2013 Ford Fiesta's do fall in this category. Some might even compare its handling characteristics to the E90. The E90 is another name of the older gen BMW 3 series. The fiesta is agile, superb on power and the interiors don't look faded. Finding a cleaner and neatly run nicely maintained Fiesta 1.6 is a challenge though.
We started our search with a golden coloured Ford Fiesta done 69k on the odo, direct owner. The car was 2009 and good on performance too but the interiors weren't. The engines alternator belt made squeaky sounds and so did the power steering motor on right and left holds. We have seen better fiesta's in the past so we moved on with our search.
Next up was a Palm green Ford Fiesta in the same building. Again a direct owner however 2nd, which meant Snehal would had been third. To add to its negatives the car was also done with its engine mountings and was a Mumbai passing car. With rust starting to develop at many places we had to knock it down from our list.
Third one we found was a Grey Ford Fiesta Duratec 1.4 ZXi 2008, Single owner and done 27k kms on the odometer. We were surprised to see a car that low on its run. Immediately we checked in the service history and it was actually genuine. The car had its all the services done in the service centre and with our 238 point checks the car fared well too. The only issue we found on the car was its tires, they needed an immediate change as the side walls had developed cracks on them. To our advantage the dealer agreed to a pricing range and we shortlisted the car.
It was Sunday and it was also the time to meet Snehal and show her all the cars and finalize one of the shortlisted which meant shortlisting within the Fiat linea, Ford Figo, the Hyundai i10 and the Ford fiesta 1.4. So we met Snehal and went on to see the Fiat linea as our first car for the day and Snehal loved it. It was huge and wide and just to her liking. Though I wasn't in favour of getting a linea as her first car, coz it aint a car that's very easy to drive. So we moved on the next short listed car the Hyundai I10. Snehal liked this one too and I was happy to shortlist the best possible cars for her. A sedan Linea costed almost the same as did the smaller hatchback Hyundai i10 and anyone would love a huge car. The i10 just didn't impress Snehal as the linea.
So we though we will see all the shortlisted cars and then choose one by the end of the day. Being Sunday the dealer who had the Grey Fiesta was closed so we called the owner of the Ford Figo Black But he wasn't available and requested us to visit after 4.30pm, it is hardly 2pm now. So Snehal planned something very sweet for us. We had couple of sandwiches and enjoyed the time at discussing as much as we could about all the cars.
 It is destiny that plays its part. A dealer just uploaded about a Ford Fiesta 1.6 ABS 2010 and it seemed great. So we called him immediately. He requested us to visit on Monday morning to check the car. Now this is the car we all at AutoGenius had been waiting for. The car was clean all sides, checked the interiors and they were good too, next we checked the engine bay and the impact members, the car's side skirts it was accident free. It also has ABS and matched all the requirements that Snehal wanted from her car. So we all decided to go for a test drive and I was impressed with its performance. The suspension had no thud or quack sounds. Breaks worked absolutely fine with enough bite on them. Our 238 point checks carried for the next one hour while Snehal and the dealer waited for my review about the car. Requested my team to get the service history of the car so that every single point is covered. All came in clean. So I had my thumbs up.
Now came in a point of negotiations and we were able to do things to our best as usual. The dealer was a new dealer to our wide network but he still agreed to our pricing. Snehal too was quick with her decision and I had the opportunity to drive the Ford Fiesta home. My tests continued all the way to Snehal's place. It is miraculous how the car was taken care of by the previous owner. The engine also has hold up well all these years and it is a car that I would have really bought for myself. So I did feel a bit jealous of Snehal getting the best car for the price. But I was the happiest too, coz I had been the one to select it. This has surely been the best value for money car till date.
We too joined in worshiping the pre-worshiped beauty with our beautiful & cake lots of good wishes.
Here's the pics.
If you too want AutoGenius to help you in buying a used car with all the 238 checks done in front of you. We are always available and awaiting for your call on 8007500740.